Journey into Mystery
!)
This first part covers Loki's death leading up to his resurrection - if you want to jump right in with the
Journey into Mystery
comics, this should give you the basic background. First, a few warnings:
Beyond the cut are a huge heap of comics scans and massive spoilers for the last few years of Thor (as well as a few Marvel-wide tie-ins.) I've noted which issues which things happen in, broadly speaking, and linked to the trade paperback collections on Amazon.


Comics!Loki is nowhere near as hot as Hiddles!Loki. Be prepared. (to make up for it kid!Loki is adorable x a zillion.) He is also an evil supervillain and not so much with the woobie at all. (again, kid!Loki more than makes up for this, and much of it is tied to what he used to be.)


You may notice an occasional Thor/Loki bias to my summary. This is expected; do not adjust your television set. (I don't ship kid!Loki but his adult self is fair game!)
The Death and Times and Death and Rebirth of Loki Laufeyson
So a few years back in the comics Ragnarok happened. I haven't read those issues so I don't know exactly what went down, but I have it on good authority that
Loki did it
. However it happened, Asgard fell, and all the gods died with it.
[
Thor v.1, v.2, v. 3, Thor 604-606
]
(Most of this run was written by JMS of Babylon 5 fame, followed by Kieron Gillen who is responsible for Journey into Mystery and hence one of my new favorite writers.)
But you can't keep a good hero down, so Thor comes back to life, recreates the city of Asgard in small-town Oklahoma (this is as funny as it sounds) and brings back everyone else, who had been semi-reincarnated as humans living human lives without memories of godhood (similar to Thor's deal as Donald Blake in the comics). This includes Loki - who manages to grab Sif's body and runs around in it for while (not telling anyone, and no one actually recognizes her, even though Sif is Thor's lover in the comics and uh, really, Thor? You didn't notice? Even if she is smirky and mysteriously eyebrow-less, and also your brother...) This is the Lady Loki you might have seen about:
Lady Loki is made of evil scheming win. If you thought movies!Loki wasn't nearly cunning or manipulative enough to be a proper trickster, Lady Loki is your girl. She pretends to have reformed, claiming that after Ragnarok, fate has run its course, and so they are all free to find new parts - in Loki's case, awesome cleavage and a newfound love of honesty. She's so honest, in fact, that she becomes the right-hand adviser of Balder, Thor's half-brother, and promptly arranges things to get Thor banished from Asgard so that Balder can have the throne (Odin opted not to come back with everyone else). Loki also cuts backroom deals with Doctor Doom and Hela, wherein it's revealed that Loki is in fact a self-made god - the reason Odin took in a Jotunn child all those years back was because of a prophecy given to him by a sorcerer. Said sorcerer was in fact Loki, popping back in time to set himself up quite neatly. Sif eventually gets her body back and Loki returns to his old (sadly not Hiddleston-esque) shape, but still claims to be on the side of Asgard, while seeeecretly continuing to go full-throttle on the evil scheming.
The best part of Loki's scheming is that it's so twisted that his real motivations are nearly impossible to discern; there are layers upon layers to everything he does, and no one gets the full picture save Loki himself (probably.) He's as quick to betray Doom as anyone in Asgard. And yet at a couple points he apologizes for what he's doing/what he is - and maybe that's more manipulation, but at least some of those times there's no one left with the memory to be manipulated: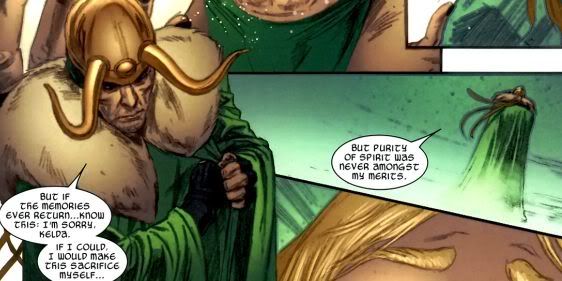 Maybe he's manipulating himself - Loki doesn't come across as unbalanced as he is in the movie, but at times he's at odds with his basic nature, that perhaps he doesn't want to be a god of lies and mischief all the time, even if it's the role he's fated to play. His deepest motivation for all his plotting here isn't revealed until Journey into Mystery, and even then it's not entirely clear whether he might not still be lying, even to himself.
[
Thor 607-610, The Siege 1-4
]
All Loki's schemes come to a head in the Marvel crossover event The Siege, in which an army of supervillains and some second-string heroes lay siege on Asgard (still in Oklahoma) and the various Avenger teams and half the rest of the Marvel universe show up to defend it. And Loki is behind it all, which at the climax he confesses - sort of; he leaves out a few
key details
of his involvement, but Balder and Heimdall figure out enough: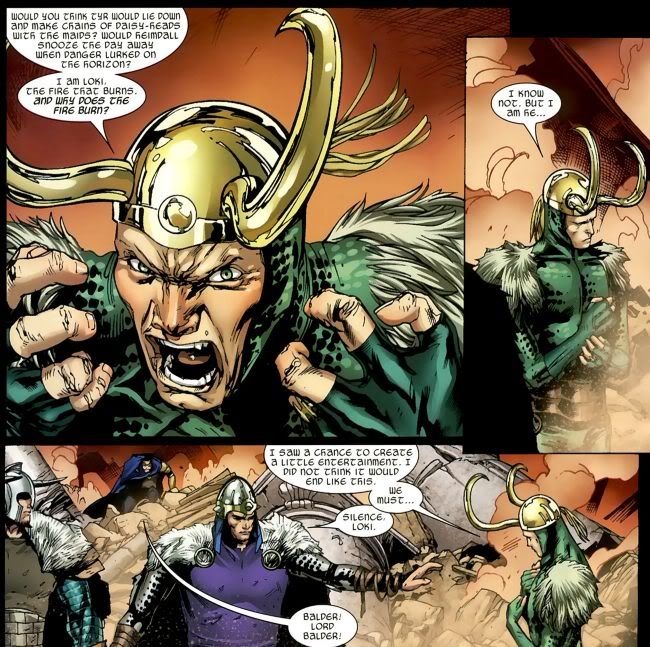 "
I am the god of mischief.
I am Loki, the fire that burns.
And why does the fire burn?
I know not. But I am he..."
(Protip: Loki is
totally lying
when he says he didn't expect this. But I think his trickster-angst might be real. Maybe.)
Balder, finally getting a clue that trusting a god of lies
maybe
isn't the best plan
, banishes him: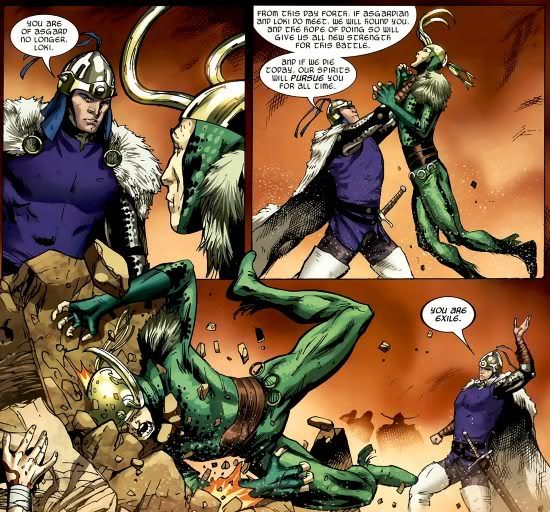 (What are his legs doing there? And why the green spandex? Oh comics...)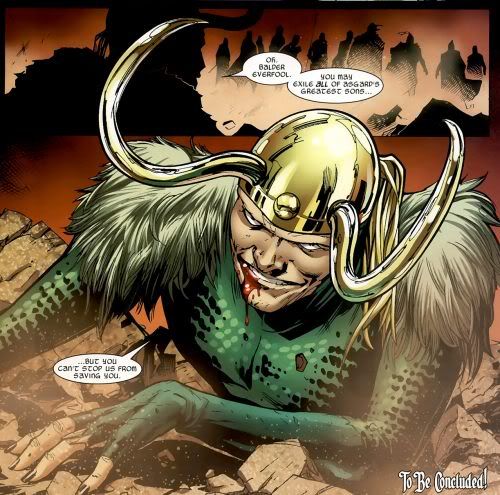 "You may exile all of Asgard's greatest sons...but you can't stop us from saving you."
Balder stops at exile because they've got bigger problems: one of the aforementioned second-string heroes is a buddy of the Fantastic Four called
The Sentry
, whose alter ego is the Void, existing in sort of a Bruce Banner situation, if Bruce were Superman and the Hulk was an Elder God.
In the chaos of the siege, the Void gets released. It promptly smashes Asgard, and it's looking like the world might follow, and even Loki seems taken aback: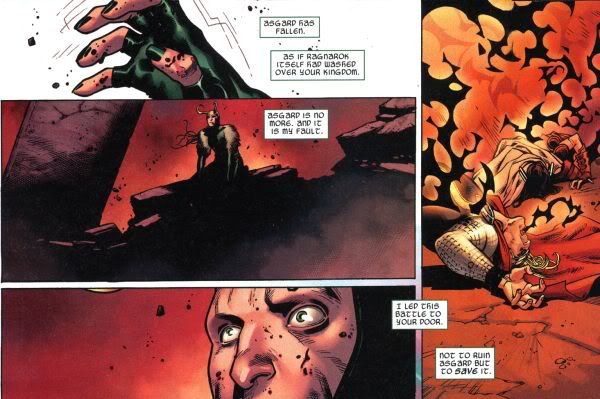 --Didn't Ragnarok already wash over the kingdom? Like only a couple years ago? But anyway - Loki prays to his All-father Odin:
"Please believe me...I did not mean for
this
to happen...Asgard is no more, and it is my fault. I led this battle to your door, not to ruin Asgard, but to
save
it. If you can hear me, Father, do know, though mischief is my weapon...I meant only for Asgard to rule in greatness as it has done in the past. I could not conceive of these mere mortals adding such madness. I could not see that this monster was so all-powerful. Give me this one chance, Father. Let me save Asgard. Let me hold the stones of Norn once more. Let me cast out the power of my imaginings to these mortals who would defend our honor. Please, Father..."
I'd put Loki's honesty at maaaybe 50%, but it works; Odin (or whoever?) gives Loki the power to pump up the Avengers so that they can take on the Void.
Unfortunately, the Void figures out where their buffs are coming from, and like any good campaigner goes straight for the caster.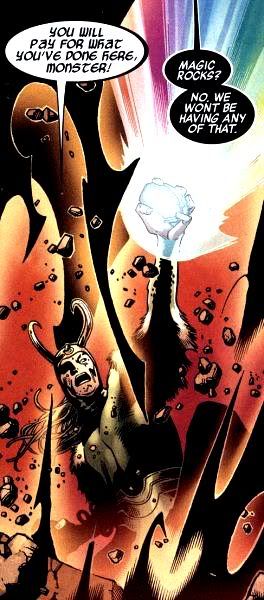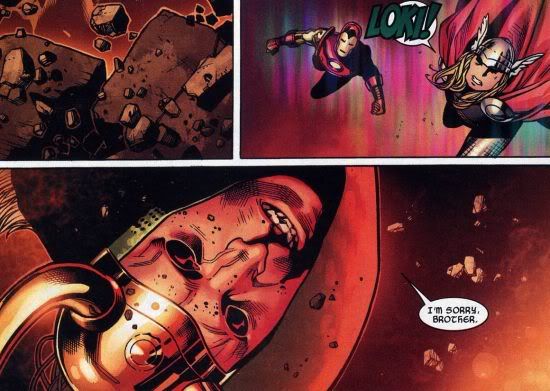 Last words. Say what you will, Loki's got
style
. Also damn but he's a manipulative little shit.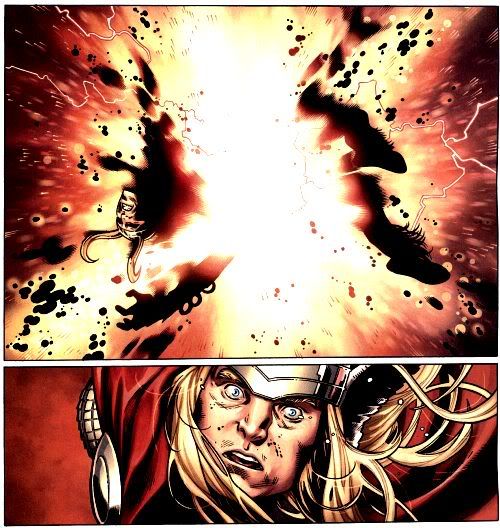 So his brother just went boom trying to save them all. Thor is Not Amused.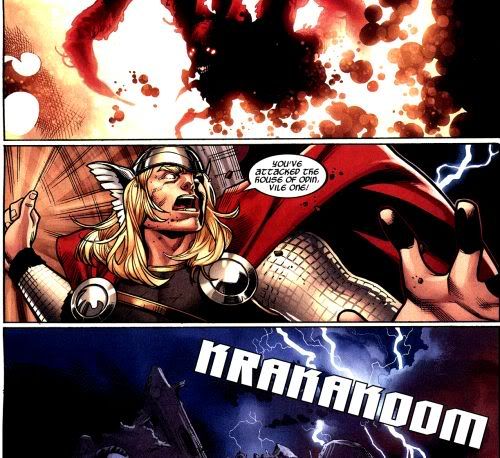 (and yes, in the comics Thor's hammer always goes "KRAKAKOOM", "KRAKADOOM," or some variation thereof. This never fails to crack me up.)
Thor is pissed off enough that (with the Avengers' help) he manages to take down the Void. The Sentry gets a funeral issue, the Asgardians who fell in the Siege get pyres, and Balder, Tyr (god of war), and Thor have a small ceremony for Loki in the ruins of Asgard:
Not a big fan of the art here, but
oh
- "Even though we shared no blood, even though so much blood fell between us...we were brothers, and let none claim to the contrary." *heart squish*
...By the way, this isn't the end of Loki's mischief (raise your hand if you're surprised. If your hand is up, congratulations, you are Thor!) See, in spite of Loki's impassioned prayer at the end there, he in fact had planned most of it - up to and including his death.
Much of this is explained in a special oneshot
Loki issue of Siege
. I wish the art of this issue wasn't so lackluster, because it's a really fascinating read, about the closest we get to penetrating Loki's real goals. (and as it's written by Kieron Gillen, is largely setting up Journey into Mystery.) It's mostly flashbacks to the Siege set-up, starting with Loki musing after this exchange with Doom:
But that he does remain Loki is a problem for a god of chaos.
"For the first time in history, the Asgardians think themselves free from the whip of destiny. We are free...yet Asgard remains. Even here, on Midgard's lowly soil, we are as we are. Balder is good. Thor is noble. And Loki is...Loki. Despite all my chaos--all my art--we are as trapped as ever."
This identity crisis doesn't stop Loki from being totally badass in carrying out his plans, plotting between everyone (and lying to all of them), plus going up against ancient monsters with a sword and a whip and laying an unexpected beat-down - "You have no idea what I am...no one does." (And a good counter for anyone who argues that it was OOC for Loki to be able to take on Thor physically in the movies.)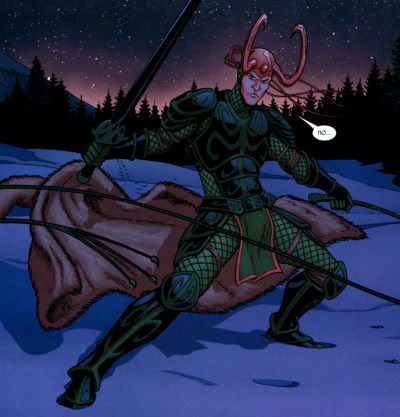 It's here that Loki makes the deals with Hela (ruler of Hel, and Loki's daughter in traditional myth; in the Marvel-verse their relationship is unclear) to get her some new real estate to replace the Hel lost with Ragnarok, leasing the land from Mephisto (ruler of regular Hell, pretty much the devil) - deals that kid!Loki later follows up on. Loki's interactions with Mephisto are particularly interesting, in light of later comments that imply he deliberately plays himself up to be more outright evil, so Mephisto thinks they are more alike than perhaps they are. The Norse god of mischief recasting himself as Satan for his own ends, even as the Norse myths were rewritten by Christian scribes?
At the end, as they watch the siege begin, Loki says, "Mischief is a small thing, a toy I've used and discarded. This isn't mischief; this is mayhem. Just watch." - and Mephisto takes this as Loki stepping up his game - but then Loki goes off and dies to end it, playing with Mephisto as he plays with everyone, making sure Mephisto couldn't see what was coming.
[
Thor 611-614
]
So a bit after Siege Thor happens to have hero business in the new Hel, and on the way out asks to see his brother - upon which he learns that Loki is not in fact
in
Hel. Turns out part of his arrangement with Hela was to get himself written out of the big book of the Viking afterlife, seeking ultimate freedom. This is particularly bad news because the monsters Loki fought before, the Disir (think cannibalistic zombie Valkryies) were running about loose and looking to eat any Asgardian soul that's not safe in Hel's realm. Hela's opinion is that Loki wanted a final out - "I think he wanted total suicide. Complete annihilation."
"You are wrong," Thor insists, "You
must
be wrong."
(What Loki conveniently forgot to mention to Hela was that he in fact defeated the Disir and handed them over to Mephisto, in order to influence Hela's deals with him. This too will come back to haunt kid!Loki.)
[
Thor 615-617
]
(the story is whatever, but it's some of my favorite art of the series, even if the Asgardians tragically lose their Viking font for a few issues.)
So Thor is very down about losing his brother for good, on top of Asgard being toppled and Odin still gone.
Yes, at their little memorial Thor specifically said Loki wasn't his flesh and blood. Thunder gods are not so great in the memory department, apparently. Sif & Balder are quick to point out what else Thor is forgetting, namely that the
reason
Asgard toppled is because of said brother, so it's not like having him back would fix anything, and Thor...does not care.
Yes, apparently all you need to to raise the dead is a lightning bolt and shiny armor. It's good to be a god.
And I cannot say how much I love Thor here - that he brings Loki back, not because Loki saved them in the end, not because he owes Loki, or because he thinks Loki or the world will be any better for it; he knows Loki will likely go right back to his old tricks and wreaking havoc again - but Thor brings him back anyway, selfishly and knowing it, because in spite of everything he wants his brother in his life, can never give up on what they once had.
So then we're in Paris, where a young card sharp by the auspicious name of "Serrure" ("Lock") is fleecing a crowd:

(That stammer is either because he noticed Thor watching, or resurfacing memories; I'm not sure which, and either way...)
Serrure's associate tries to pick Thor's pocket, it goes badly, Serrure bolts and Thor gives chase, and when he catches up - I have to post these pages because there is no adequate way to summarize their amazingness: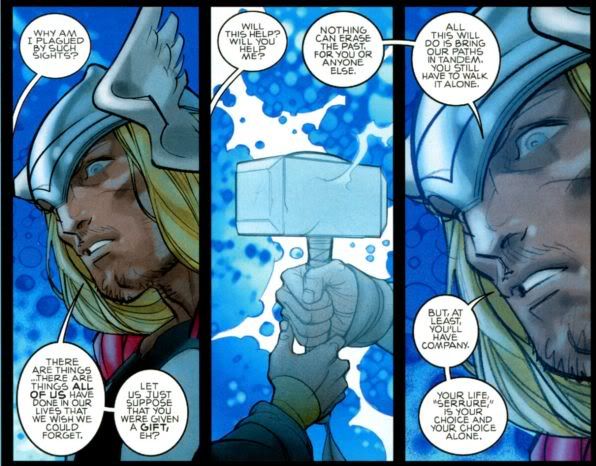 (His reincarnation is only like 13 so I refuse to make a 'grab my hammer' joke. Your subconscious will have to provide. Loki'd! :P)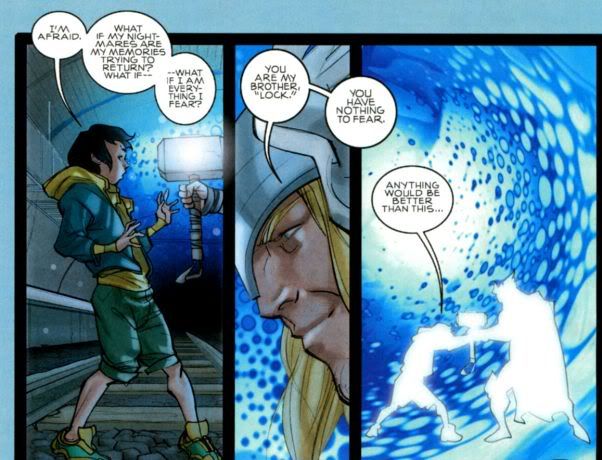 "What if I am everything I fear?"
"You are my brother. You have nothing to fear."
AND TOGETHER THEY FIGHT CRIME.
(Or at least Disir, evil serpents, fear gods, and trolls, on and off the internet.)
For the second half I'll go more into kid!Loki in the beginning of
Journey into Mystery
and elsewhere in
Thor
. ...Or possibly just post a lot of Thor & kid!Loki pics and squee at you until your ears ring:
Post 2: kid!Loki in Thor
(but were afraid to ask)(or didn't know you wanted). For anyone like me who was interested in comics!Loki but didn't know where to start - here is an-depth illustrated summary of Loki in the current Marvel comics, in particular kid!Loki (aka Loki's shot at canonical redemption, aka Xparrot's crazy obsession du jour, aka everybody go read