the events leading up to kid!Loki's reincarnation
. And now, part 2, kid!Loki in the Thor comics.
For those interested in
Journey into Mystery
(kid!Loki's primary series), this part is entirely scans and story from
Thor
and
The Mighty Thor
comics up until about now (
Mighty Thor 12
), with no major JiM spoilers - most of these issues take place prior to JiM, after which the series run parallel to one another and only tangentially overlap. Loki is only a side character in the
Thor
comics, and Thor!kid!Loki tends more towards the crazily/tragically adorable kid-sidekick side of the spectrum, less complex than his semi-anti-hero JiM self. I decidedly prefer JiM - both for Loki and for the stories themselves; the
Thor
comics are just
random
- but there is an awful lot of cute here.
More scans than last time; I couldn't help myself.
Everything Old Is Loki Again
[
Thor 618-621
]
Last time on Thor (from the 620 recap page):
Against his better judgment, and condemned for it, Thor has resurrected Loki, the traitor by whose hand Asgard has fallen.
So, after finding his brother reincarnated as a boy in Paris with no memories, Thor brings Loki back to himself - or mostly back, because this Loki is a bit
different
than his previous version.
For one thing, he's rather more portable: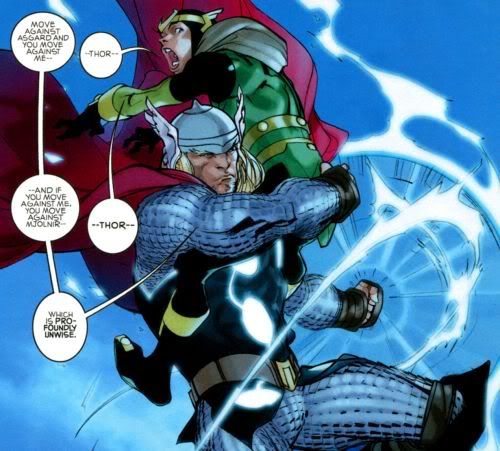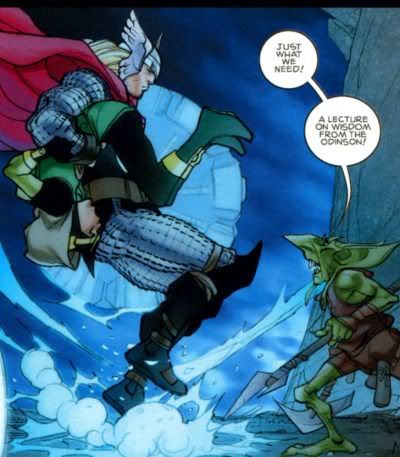 And generally just tiny!
(The main JiM writer and kid!Loki's primary creator, Kieron Gillen, has put his age at the Asgardian equivalent of 13; in the comics depending on who's writing and drawing him, he tends to look and act somewhere between 10-15.)
While kid!Loki has a god's endurance and agility, he is effectively powerless - this seems mostly due to lack of knowledge; he still has skill in magic, but is basically back to beginning apprentice level and can't even manage simple illusions. Because he has no power and no influence, he needs to rely on his wits, charm, and ability to dissemble more than ever.
The dissembling is particularly interesting, because while Loki used to lie compulsively, his younger self can be disarmingly honest at times, speaking his mind like a child; and other times will openly admit to having secrets. But he also chooses to keep others unmentioned, and he's very aware of how people see him. And sometimes he seems to use his age to get away with saying things an adult couldn't.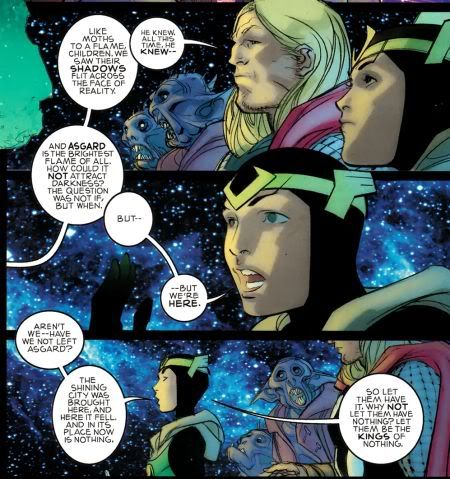 Though he apparently has no real memories of his previous life past the age he appears, he's well aware of his past self - not least of which because no one else will let him forget it:
A+ parenting, Odin!
Thor agrees: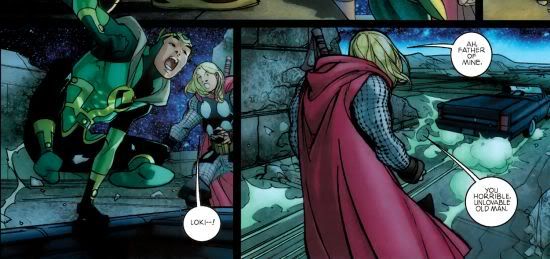 (...yes, that was Loki stealing a guy's car.)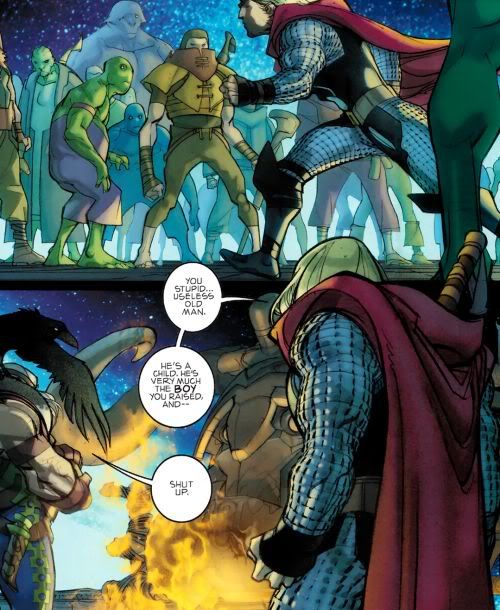 Wow, Odin got up on the wrong side of the coffin. (Yeah, like I mentioned, he was dead before. Thor brought daddy dearest back - because Asgard was in trouble and needed him. Odin's not especially grateful.)
In many ways, kid!Loki is a far better
trickster
than the original (Marvel) Loki - because he has to rely more on his wits than any powers, because his motivations are much less clear and therefore less predictable. Unburdened from most of his angst, he can be a cocky little smartass and really enjoy himself like a good trickster should. That he also has a heart and a capacity for compassion that was so long repressed and atrophied in his original incarnation doesn't change fact that he is still the god of mischief as much as he ever was.
Which is why Thor is pretty much the only person in all of Asgard - or anywhere else - who is happy Loki is back.
At the end of Thor 621, Jane Foster tells Loki: "Thor brought you back, Loki. He
loves you.
And that means he'll take care of you. He'll
always
take care of you." (that this is superimposed over shots of Balder's funeral, and Thor consigning Balder - his half-brother's - helm to the pyre, showing how well he can take care of brothers...makes it perhaps less reassuring than it might be. Still, aww...)
In turn, Loki hero-worships his big (now much bigger!) brother. Which he might be exaggerating for effect, but it usually seems genuine. (And gah, the adorable...!)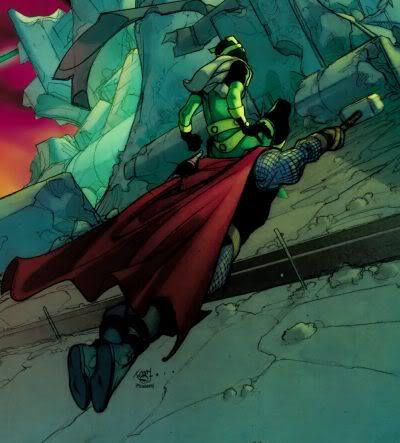 This run of
Thor
ends with 621 (and
Journey into Mystery
picks up with 622); meanwhile the Thor storyline continues in:
[
The Mighty Thor 1-6
] (set before the first JiM)
This story is random (the planet-eater Galactus comes for a special world-seed hidden in the roots of Yggdrasil; mostly this is an excuse for Thor vs Silver Surfer), but kid!Loki's arguably at his most openly heroic: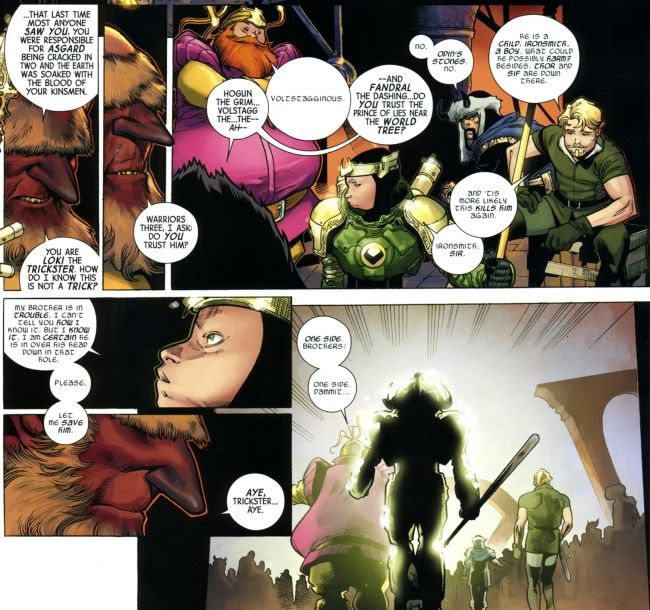 "My brother is in trouble. I can't tell you how I know it. But I know it. I am
certain
he is in over his head...Please. Let me
save him.
"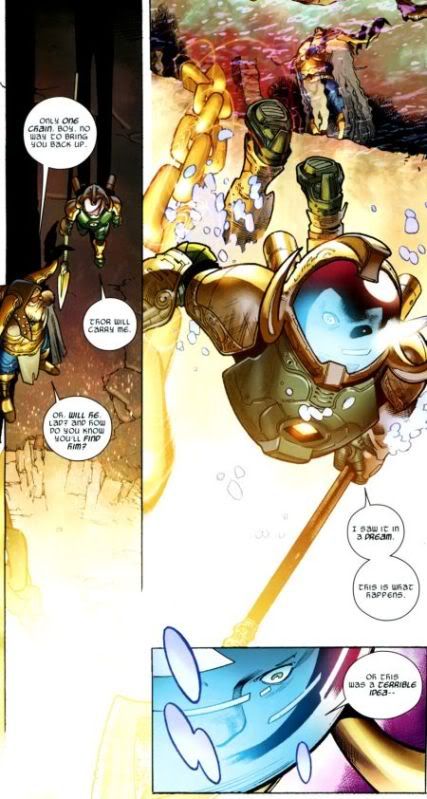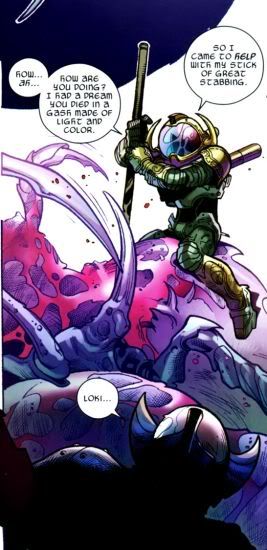 "I came to help with my stick of great stabbing!"
Which doesn't mean he's not still getting up to old-school mischief of the first order: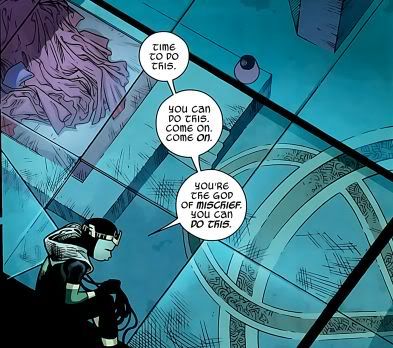 In both Norse myth and Marvel canon there is a story that Loki pranked Sif by cutting off all her beautiful golden hair while she was sleeping; he then was forced to make restitution by getting the dwarves to craft her new hair of actual gold. In the comics, this hair then turned black, for reasons (i.e. it's hotter for Thor to be banging a brunette.) Which is why Sif doesn't take kindly to Loki's hair-snipping now: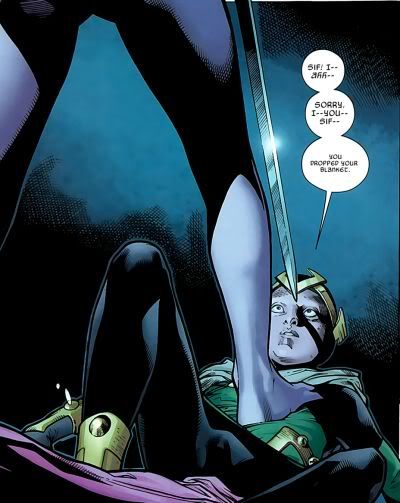 (Sif's relationship with kid!Loki is all over the place: sometimes she seems big-sisterly fond of him, sometimes she's supportive of him for Thor's sake, sometimes she's deeply distrustful of Thor's attachment to him and suspects Loki of manipulating him. Given all their past history it's not difficult to understand, and Loki, while aware of her distrust, doesn't seem to hold it against her, generally accepting her kindness at face value.)
All this being said, Loki's plans might go better if he actually
told
anyone what he was up to. Kid!Loki's biggest problem is that he doesn't dare share what he's doing with anyone, because he (correctly) assumes that no one will believe he's actually scheming and conspiring with witches and whatnot for the
right reasons
:
Again, JiM does more interesting things with this (much of Loki's actions & motives are a lot grayer) and Loki actually has a few allies (of a sort) on his side. In the Thor stuff, it's just tragic, because Loki's not actually doing anything wrong (in this case he successfully saves Asgard), it just appears like he is, and no one will believe otherwise. Even Thor has his moments of doubt - especially when Loki's secret plans potentially could've gotten Earth eaten by Galactus: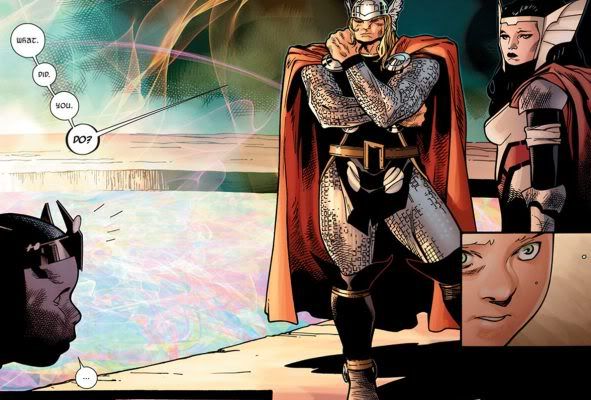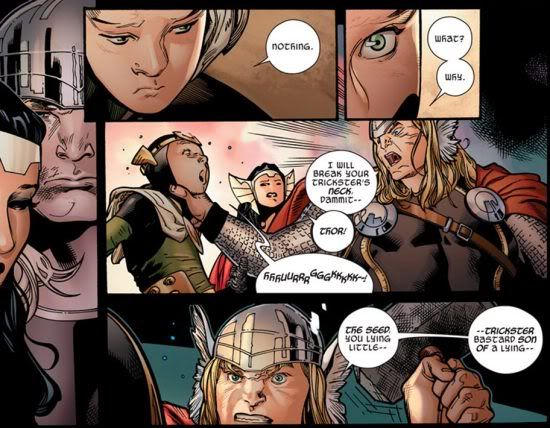 MY HEART ;_;
If Thor seems excessively or abusively cruel here - Galactus was a serious threat, Thor's got a weird injury that might be screwing with his head, and also, cute kid or not, this is still
Loki
. It is not wise to trust anything Loki says or does, no matter how innocent he looks or how many (possibly crocodile) tears he cries. Only a couple years ago as Lady Loki and then up through the siege, he was as fervently insisting he was reformed, that he was working for the good of Asgard. As it turned out,
not so much.
As kid!Loki, we readers get to see him on his own (no one was watching during that "For Asgard!" above), so we know he -
probably
- is sincere now. But no one around him knows for sure his change of heart is for real; and it doesn't impact how dangerous he can be. That their distrust might well drive Loki down the same path he followed before is one of the more bitter ironies of his reincarnation.
All the same, Thor is trying: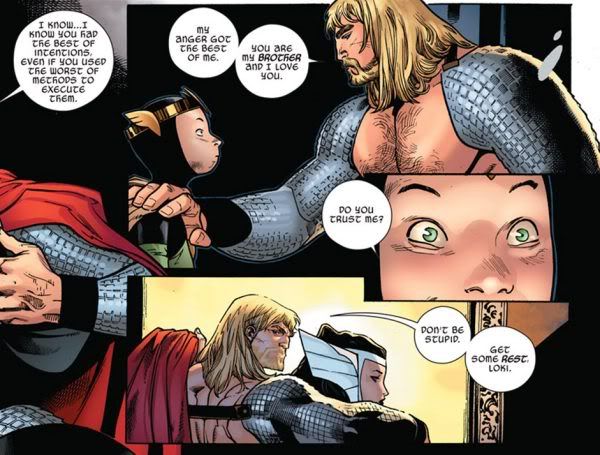 Loving him while never trusting him is possibly the only way to actually deal with Loki, and maybe it will be enough?
(These next issues take place after
Journey into Mystery
v.1-2, and has oblique spoilers though nothing direct.)
[
The Mighty Thor 7-12
]
Following events in the Fear Itself cross-over event (covered in part in the first volumes of JiM), there's this odd little arc where an old foe of Asgard casts a spell such that Thor (MIA) gets replaced in everyone's mind and memories by a new Thunder God, Tanarus. And, because this comic is determined to SHATTER MY HEART, out of everyone Thor knows - the Avengers, Asgard's rulers, Sif, the Warriors Three, the Silver Surfer, Donald Blake, everyone - Loki is the
only
one who actually remembers his real brother. He doesn't exactly remember Thor himself - it takes a magical zapping for him to remember his name - but he knows that Tanarus is
not
his brother and is absolutely furious about it: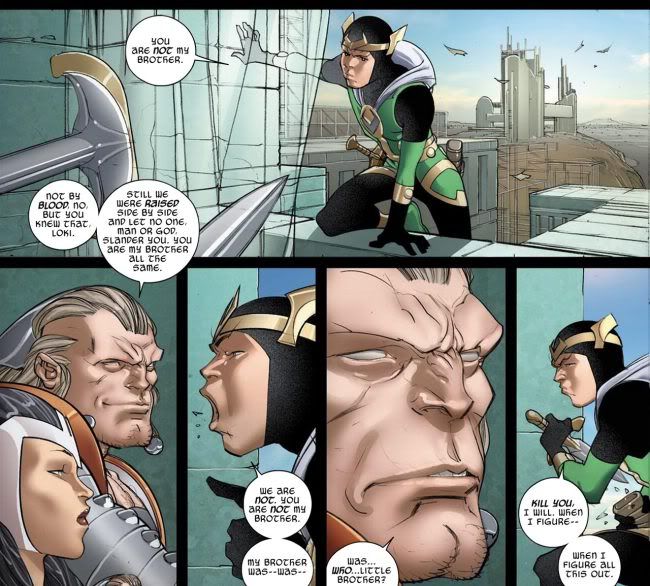 "My brother was blonder! Also hotter! ...well, depending on the artist."
Especially because everyone thinks he's gone off his nut (even more than usual) because he won't shut up about his seemingly non-existent brother: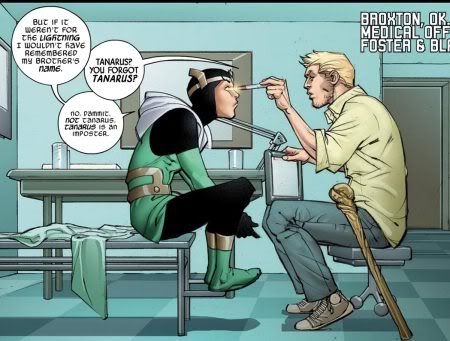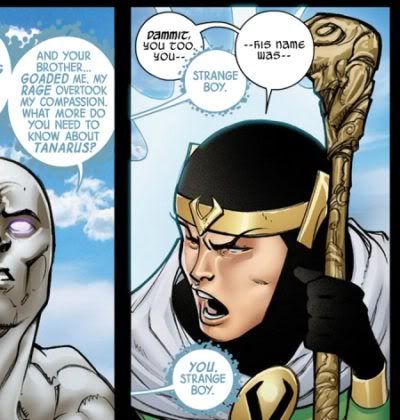 Loki finally teams up with the Silver Surfer (who is hanging around Earth for, um, reasons) and they end up releasing Mjolnir (from the stick Loki's holding, that he stole from Donald Blake because he (Loki) is a dick)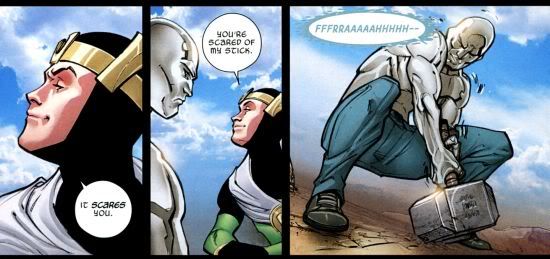 Surfer unleashing his power trying to lift the hammer starts it glowing, and Loki gives Thor a psychic pep-talk (Thor is trapped in another dimension, as happens to heroes):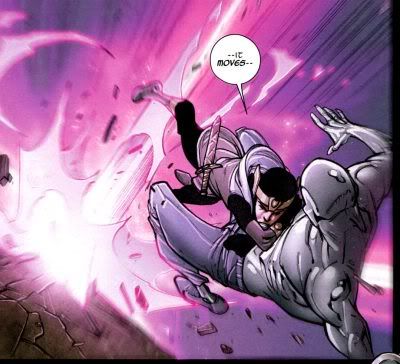 (That was Loki pushing Surfer out of the way before he got punched through by Mjolnir, which Thor just remembered how to summon.)
This apparently restores Loki's memories but no one else's, so then he's trying to explain his brother to the Surfer:
"Thor. The Mighty Thor."
"I recall him not at all."
"Think
harder
. Big. Fearless. Had a hammer. Could be...impulsive. My father would say,
'impetuous'
but I never saw it that way.
"And you are certain you are not speaking of Tanarus?"
"Yes, yes, to
Hel
with Tanarus. Tanarus is an
imposter. A copy.
A clone of an impression. Tanarus
dreams
of being this heroic. This brave. This hopelessly
Asgardian
."
(umm watch the hands, Loki...)
While they're trying to find Thor and figure out who's behind this, the evil sorceress who cast the spell and her troll allies attack the newly-rebuilt-for-what-the-third-time? Asgard (I mentioned this comic is really random, right?) and Loki comes with Surfer to dive right into the warzone even though he's pretty much useless as a fighter these days - hopelessly Asgardian indeed: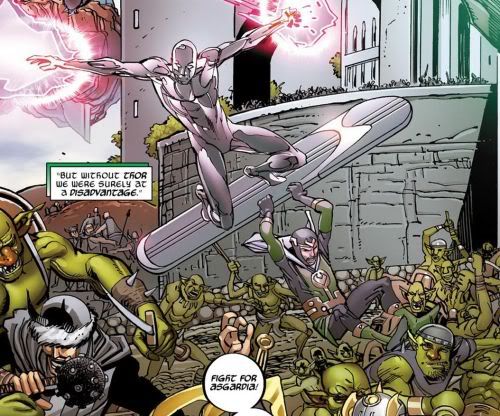 "They had cast a magical working upon us. Thor was cloaked in our memories, replaced by 'Tanarus.' We didn't know Thor was gone. We just knew that this loud-mouthed braggart was allegedly our greatest hero..."
"He never fooled
me
, though. And even though I couldn't remember him exactly..."
"I could remember
enough
."
Thor's arrival breaks everyone else out of the spell, the battle gets wrapped up in what would've been about a volume of shounen manga and is maaaybe half a dozen pages here (I have yet to adjust to American comicbook pacing) and...no one thanks Loki or acknowledges what he did (that we see, though it does jump ahead) and there is no Thor-Loki reunion hug (ALL THE TEARS ALL OF THEM ;_;).
(We do, however, get to see that Loki is an awesome babysitter!
Did I say awesome? I might have meant terrible...)
Following this,
The Mighty Thor
12.1 has some interesting rewriting of Norse mythological and comic canon, plus this (which is adorable no matter what Sif and Volstagg think):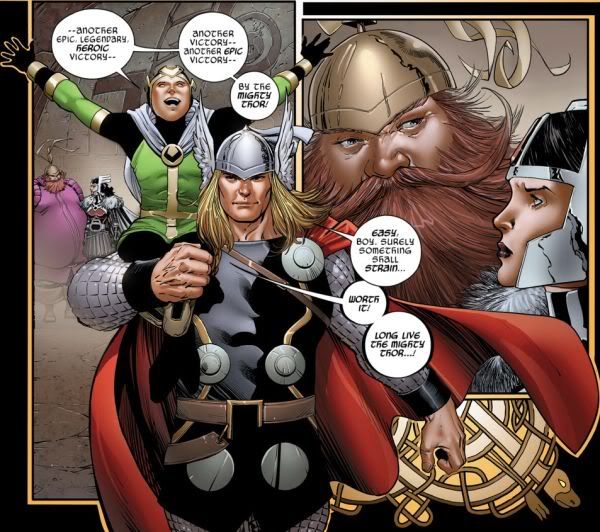 The current arc in
Mighty Thor
(at least through 14) doesn't yet feature kid!Loki, but that's all right since he's the star of
Journey into Mystery
. And JiM, if I haven't said it enough, is amazing (probably the American comic I've enjoyed the most since I first read Sandman.) If I do a part 3 it won't be full summaries but just a collection of awesome JiM bits for my own enjoyment, to have around after the series inevitably breaks my heart (it will likely be a very long post...)
Previously,